THE NADA EAR ACUPUNCTURE PROTOCOL
The National Acupuncture Detoxification Association (NADA),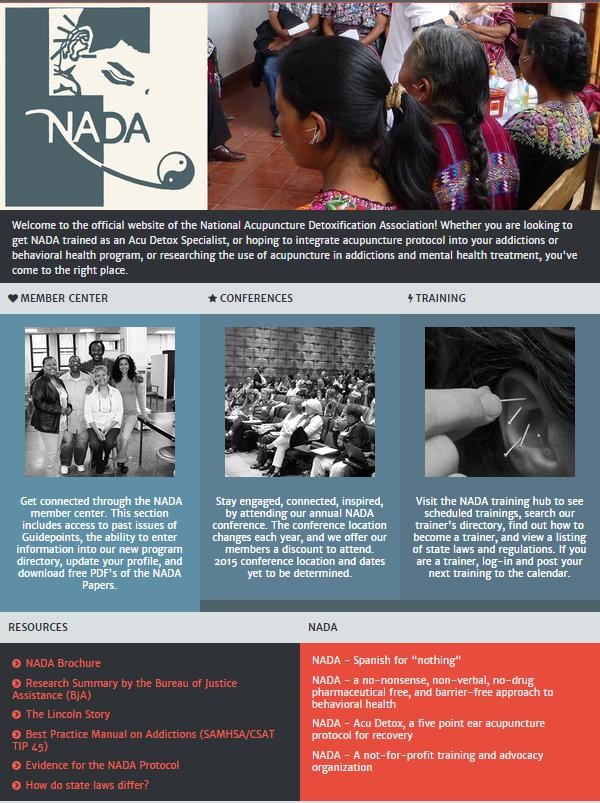 Mission Statement: The National Acupuncture Detoxification Association (NADA), a not-for-profit training and advocacy organization, encourages community wellness through the use of a standardized auricular acupuncture protocol for behavioral health, including addictions, mental health, and disaster & emotional trauma. We work to improve access and effectiveness of care through promoting policies and practices which integrate NADA-style treatment with other Western behavioral health modalities.
History: Starting in 1974, the staff and other professionals associated with the South Bronx's Lincoln Recovery Center spent 10 years developing the basic five ear-points NADA protocol for the treatment of addiction, using the diagnostic tools of experience and trial and error. They determined a need for a national-level organization to expand training capacity and awareness of the value of acupuncture as a tool of recovery. Incorporated in 1985 in the state of New York, the National Acupuncture Detoxification Association has helped spread acu detox far and wide, nationally and internationally.
NADA was established to enroll members, establish a collection of related reference materials, codify a training curriculum and develop a flexible system for registering qualified trainers and delivering trainings. NADA has since trained more than 10,000 health professionals, including counselors, social workers, nurses, medical doctors, psychologists, acupuncturists, chiropractors, outreach workers, drug court judges, corrections officers and others to use the protocol.